Welcome and thank you for visiting our website. We are Pam and Gary Baker, California-based food, wine and travel writers.  We write for regional, national, and international publications including Porthole Cruise, Upscale Living, Washington Tasting Room, Northwest Travel and Life, Food Wine Travel Magazine, Via Magazine, and Australia and New Zealand Magazine.  Pam is the former editor of Sacramento Lifestyle Magazine, a regional magazine about community events, people, and places. She also writes a monthly wine column for Food Wine Travel Magazine that explores wine regions, wine tasting, and wine experiences.
We love to travel and have visited and written about destinations in Europe and Eastern Europe, South America, Central America, the Caribbean, Australia, New Zealand, Canada and throughout the United States. We also write about wine and food and have visited many of the world's famous wine regions.  We've covered a wide-ranging array of travel and lifestyle stories in California, exploring Gold Rush history in Sutter Creek, wine tasting in Sonoma and the Delta, navigating San Francisco's Chinese New Year's Parade, as well as tips on healthy aging, planning a wedding and embracing children leaving for college. Links to some of our published articles and our photographs can be found above.
We're in the latest edition of Rock Star Travel Writers at PitchTravelWrite. Interested in learning the secrets of the top travel writers?  Click here to view more details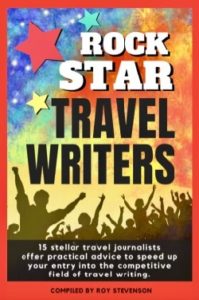 Roy Stevenson, veteran travel writer and coach, had this to say about our story on Halong Bay:
This has to be one of your finest travel stories yet! And an excellent example of professional travel writing for our group. Very nicely written. Great descriptions. Made me want to go there. Well done & my congratulations!"
Anna Varghese, Editor, Destinations Magazine, had this to say about our writing:
I have just published your event article. As you can see, it was written so well there was no reworking required."
Michael Novakovich, President and CEO, Visit Tri-Cities Washington, had this to say about working with us:
Pam and Gary Baker were a delight to host in our community. Not only did they participate in every element of the FAM tour we put together for them, they braved incredibly blustery winds to hike Badger Mountain to take in breathtaking vistas. They truly captured the essence of the Tri-Cities as being the Heart of Washington Wine County through their writing. Professional. Courteous. Engaged. Pam and Gary. We hope they will visit again soon."
We're in the news! Read our story at PitchTravelWrite.com
We love to hear from you. Use our Contact Us page if you are interested in having us write for you or simply want to leave us a note.